Natrelle Inspira® Cohesive Round ("Gummy Bear") Implant
what makes the NAtrelle inspira® Round "gummy Bear" implant different?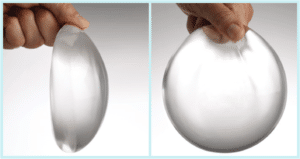 This type of implant was made to retain its shape. It features highly cohesive gel that holds together causing it to stay in place. It is also designed to maintain upper pole fullness, even when positioned vertically. The highly cohesive gel is designed to prevent downward movement, helping the implant maintain a form-stable upper pole.
Can this type of breast implant be used during breast reconstruction?
Yes! This type of breast implant can be used during reconstructive surgery, as well as, during breast augmentation.
Is there anyone who should not get this type of implant?
Natrelle Inspira® Cohesive Round ("Gummy Bear") Implant SHOULD NOT be used in patients:
A patient who has already had implanted devices that would be affected by a magnetic field (e.g., pacemakers, drug infusion devices, artificial sensing devices)
A patient who's tissue at the expansion site is determined to be unsuitable
A patient who has an active infection or tumor at the expansion site
A patient with unrealistic expectations
Are there any risks?
The risks associated with this type of implant are the same as any other implant used during the breast augmentation procedure. Events that may occur with breast implant surgery include: breast asymmetry, breast pain, breast/skin sensation changes, capsular calcification, delayed wound healing, hematoma, hypertrophic scarring/scarring, implant extrusion, implant malposition, implant palpability/visibility, infection, nipple complications, redness, seroma, swelling, tissue/skin necrosis, wrinkling/rippling.