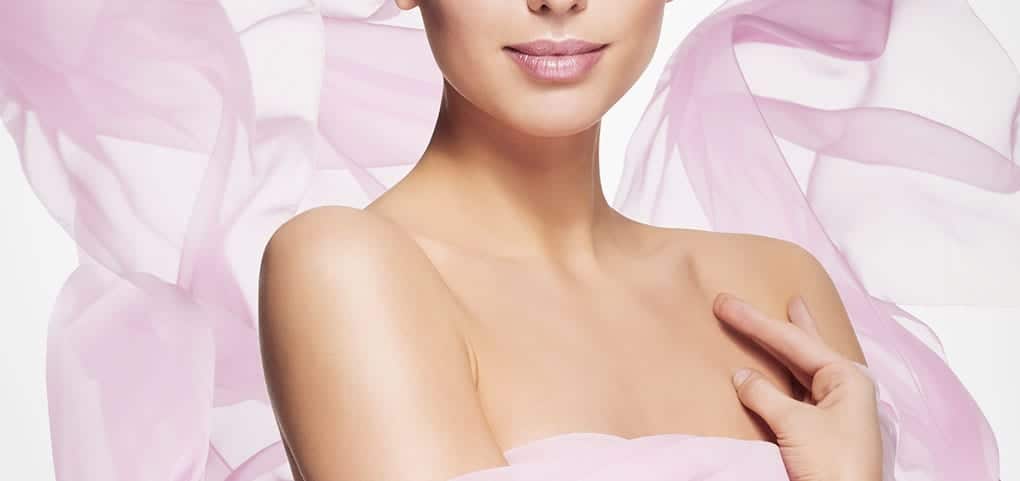 One of the unfortunate facets of aging is the continuing decline in our body's collagen production. This is important because collagen provides the underlying structural framework under our skin. Every year after we celebrate our 20th birthday, this production drops an additional percentage point. That doesn't make much to celebrate at 50, as our collagen production is now one third less. No wonder our skin sags, becomes loose and allows the formation of lines, creases, wrinkles, and areas of volume loss.
A facelift or neck lift with Dr. Epstein can reverse these changes, but many people don't want to have surgery, at least not yet.
For those patients, we offer an alternative, SkinTyte™. SkinTyte™ uses infrared light to heat the dermis and stimulate new production of collagen. As the collagen production ramps up, the skin firms and tightens.
SkinTyte™ was developed by Sciton around the principle of selective thermolysis. It utilizes pulsed infrared light technology to deeply heat the skin while cooling and protecting the surface skin. The infrared light penetrates into the dermis where it triggers the production of new collagen. This firms and tightens the skin in a completely non-invasive fashion.
Who is a good candidate for SkinTyte?
SkinTyte™ is a great treatment for patients with moderate skin sagging because SkinTyte™ delivers moderate, but noticeable skin tightening without surgery. Our Long Island patients have found SkinTyte™ effective to treat loose skin on their face, neck, abdomen, and arms. Beyond tightening the skin, the collagen boost also can improve fine lines, texture issues, and areas of pigmentation.
If a patient has extensive loose skin, however, SkinTyte can't provide the tightening needed. A surgical facelift would be the only way to rejuvenate this degree of sagging skin.
What are the benefits of SkinTyte skin tightening?
SkinTyte™ uses infrared light to deeply heat dermal collagen while using the sapphire contact cooling of Sciton's broadband laser platform to cool and protect the epidermis. With this advanced technology, the treatment initiates the body's natural healing process, which leads to tightened skin and a more youthful appearance. All of this with no downtime and no need for topical anesthetic.
The combination of dermal heating and epidermal cooling in SkinTyte™ keeps you comfortable throughout the treatment while using rapid, gentle energy pulses to effectively heat the dermis. This leads to significant skin tightening as the body produces new collagen as a reaction to sensing heat in the dermis layer of the skin.
SkinTyte™ also utilizes a large spot size on the handpiece, 15 x 45 mm, which allows us to treat large areas quickly and effectively.
SkinTyte™ delivers its infrared light energy onto the skin in a sequence of rapid pulses. The handpiece can be moved in a circular motion over a treatment section or kept in a static position, depending on the area being targeted. Patients experience a warming sensation as the infrared energy enters the dermis, where it converts to heat. To keep the surface skin comfortable, SkinTyte™ uses sapphire contact cooling. This system continually monitors skin temperature.
As the infrared energy is pulsed down onto the skin, it immediately penetrates the epidermis and enters the dermis, the skin's second layer. The dermis layer is where collagen is produced and where it provides the latticework that supports our skin and keeps it young-looking and firm.
When the body senses heat in the dermis layer, it assumes a wound has occurred. It reacts in two ways. First, the existing collagen in the area of the perceived "wounds" is remodeled. This instantly tightens the skin. But the real results come from the second aspect of the skin response. To heal the perceived wounds, the body triggers the new production of collagen and elastin. This is sent to the treatment area where it improves, thickens, and firms the skin. This collagen boost lasts for a period of months before the collagen production returns to its previous level.
Patients can have some mild redness across the treatment areas, but this passes within just a few minutes. There isn't any recovery or downtime. You can get back to your normal activities. You can also apply makeup or sunscreen immediately after a session.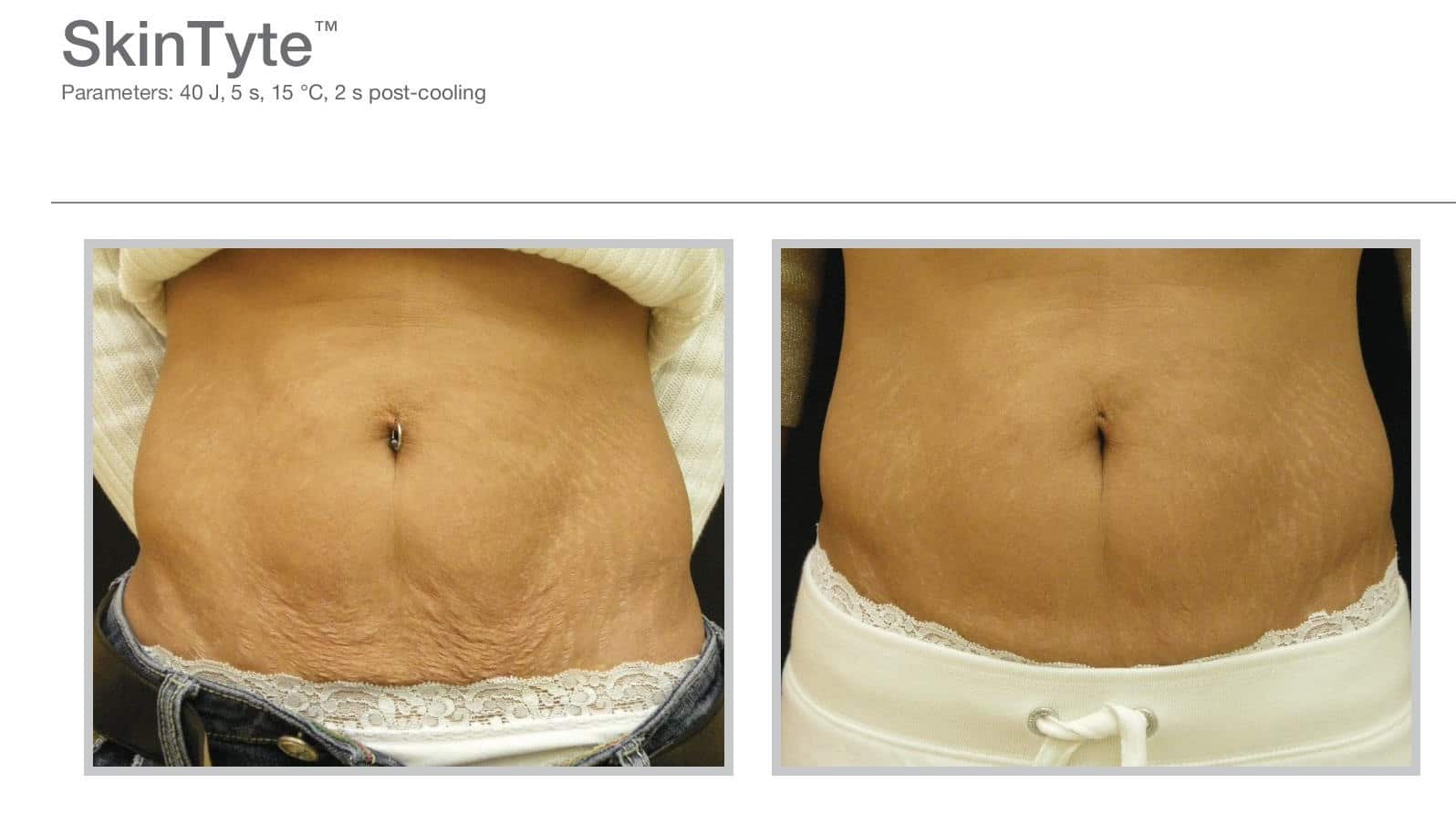 Will I have recovery or downtime after my SkinTyte treatments?
SkinTyte™ delivers completely non-invasive skin tightening without any recovery time. This is because SkinTyte™ utilizes infrared energy rather than laser energy. Laser energy can burn the outer skin if not controlled precisely. SkinTyte™ combines the delivery of infrared energy in short bursts over a large spot size with sapphire contact cooling of the epidermis. This makes for fast, comfortable treatments without any downtime.
What type of results can I expect with SkinTyte and how long will they last?
When SkinTyte's infrared energy penetrates the epidermis and enters the dermis layer it converts to heat energy. When the body senses heat in the dermis layer it assumes there has been a wound, and it responds with a wound-healing mechanism described above. This is a boost in collagen and elastin production. As this new collagen arrives, it builds a new structural framework under the skin, tightening and firming it. These treatments initiate new collagen production that lasts up to four months.
These results are permanent. The new collagen isn't going anywhere. The problem is, as mentioned above, our continuing decline in collagen production. So, while SkinTyte™ treatments initiate new collagen production, your body continues to naturally produce one percentage point less collagen each year. These treatments counter that, but when the wound response is complete after roughly four months, your skin can begin to sag again simply from the reduced collagen production. That's why Dr. Epstein recommends maintenance SkinTyte™ treatments every six months.
Are there risks with SkinTyte treatments?
This is a completely non-invasive procedure. The infrared energy in SkinTyte™ is applied externally with a series of short bursts and the outer skin is thoroughly cooled at the same time so there aren't really any risks involved with these treatments.
For more information about the SkinTyte treatment, contact Epstein Plastic Surgery. Call our Long Island office at 631.689.1100 to schedule a consultation with Dr. Mark Epstein.