Proven Results with Non-Surgical Fat Removal
For many years, men and women have searched for ways to reach their weight goals. Healthy eating and regular exercise are advantageous but, as you may know, only get you so far. If you are one who finds yourself in that "in-between," an area where you want more for your body but aren't in need of surgical intervention like liposuction or abdominoplasty, you may be interested in CoolSculpting® Elite technology with Dr. Mark Epstein.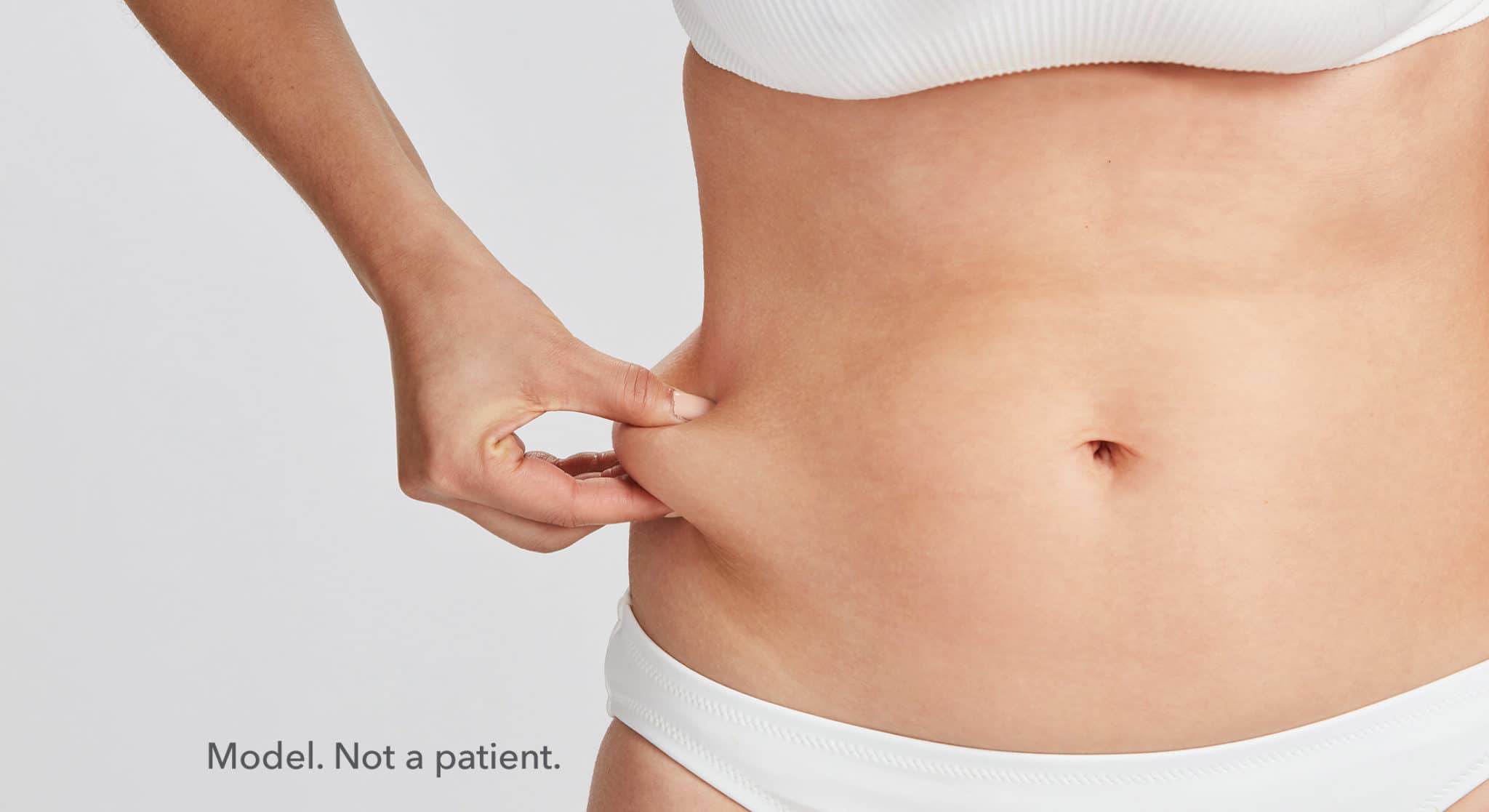 What is CoolSculpting® Elite?
FDA-cleared
Non-surgical
Safe and effective
CoolSculpting® Elite is an FDA-cleared device that melts fat cells by targeting them with freezing temperatures. The fat-dissolving process is referred to as cryolipolysis. The cooling of fat destroys cells by causing crystals to form inside of them. This crystallization within fat cells destroys them. The body's natural immune response is to then eliminate these cells. Coolsculpting® Elite is a body-contouring method that has been widely studied and found to be one of the most effective modalities to date based on proven, lasting results.
Who is a candidate for CoolSculpting® Elite?
CoolSculpting® Elite is an excellent body-sculpting option for men and women who are at or near their ideal weight and who understand how the treatment works. The ideal patient is someone who has excess fat around the abdomen, flanks, chest, arms and inner/outer thighs. Body-sculpting is not intended for weight loss. In fact, most people do not experience any change in weight after undergoing CoolSculpting® Elite. The primary benefit of this treatment is that you can look better from every angle thanks to the targeted destruction of fat cells.
CoolSculpting® Elite Procedure
To get the body into the state in which fat cells are destroyed, the CoolSculpting® Elite cooling panels treat fat tissue in a given area for about one hour per treatment area. Tissue is held between panels with gentle suction. Patients are encouraged to bring entertainment with them. Some people listen to music or read during CoolSculpting® Elite sessions, while others watch movies or answer emails. It is not uncommon for a patient to doze off while lying comfortably on the treatment table.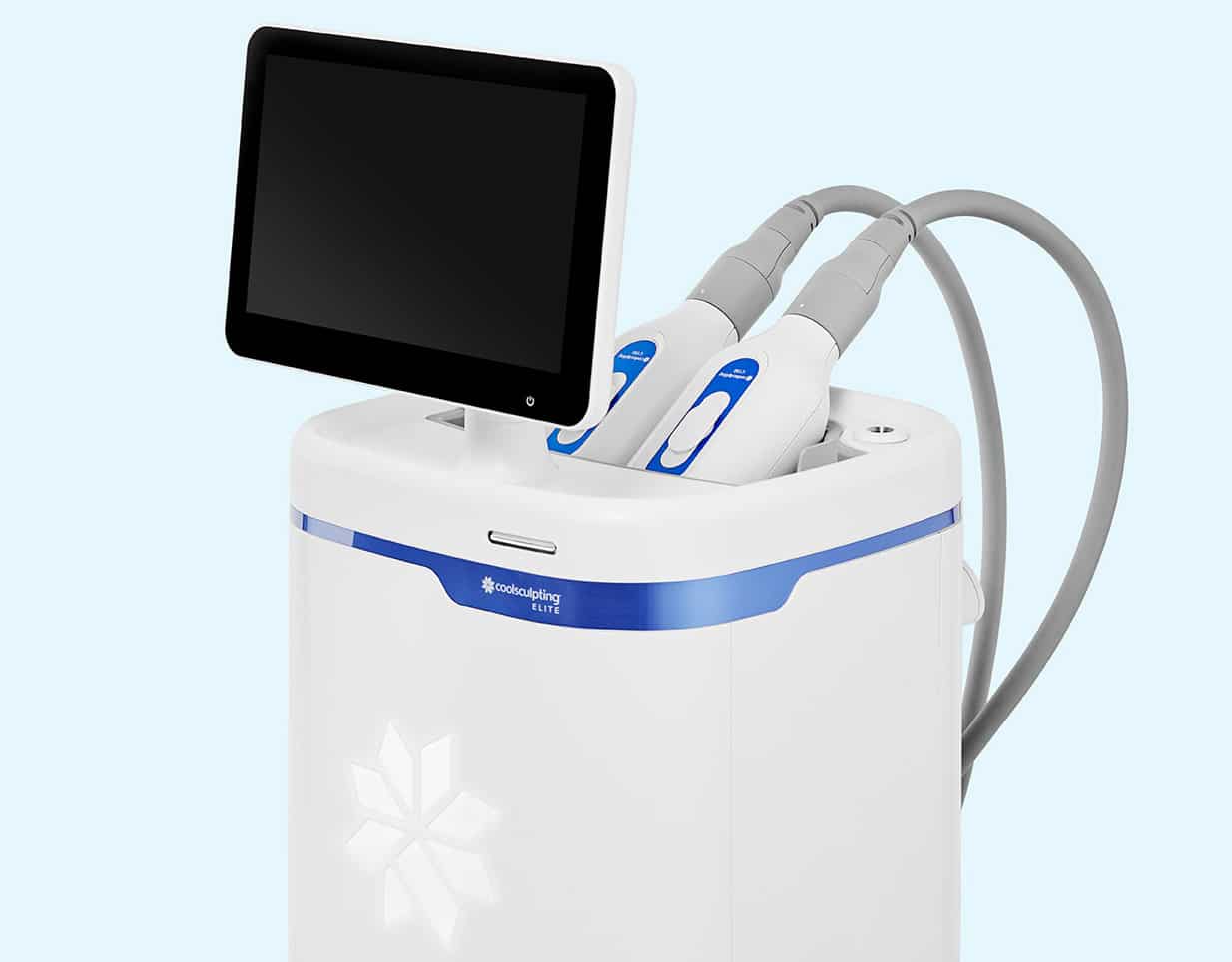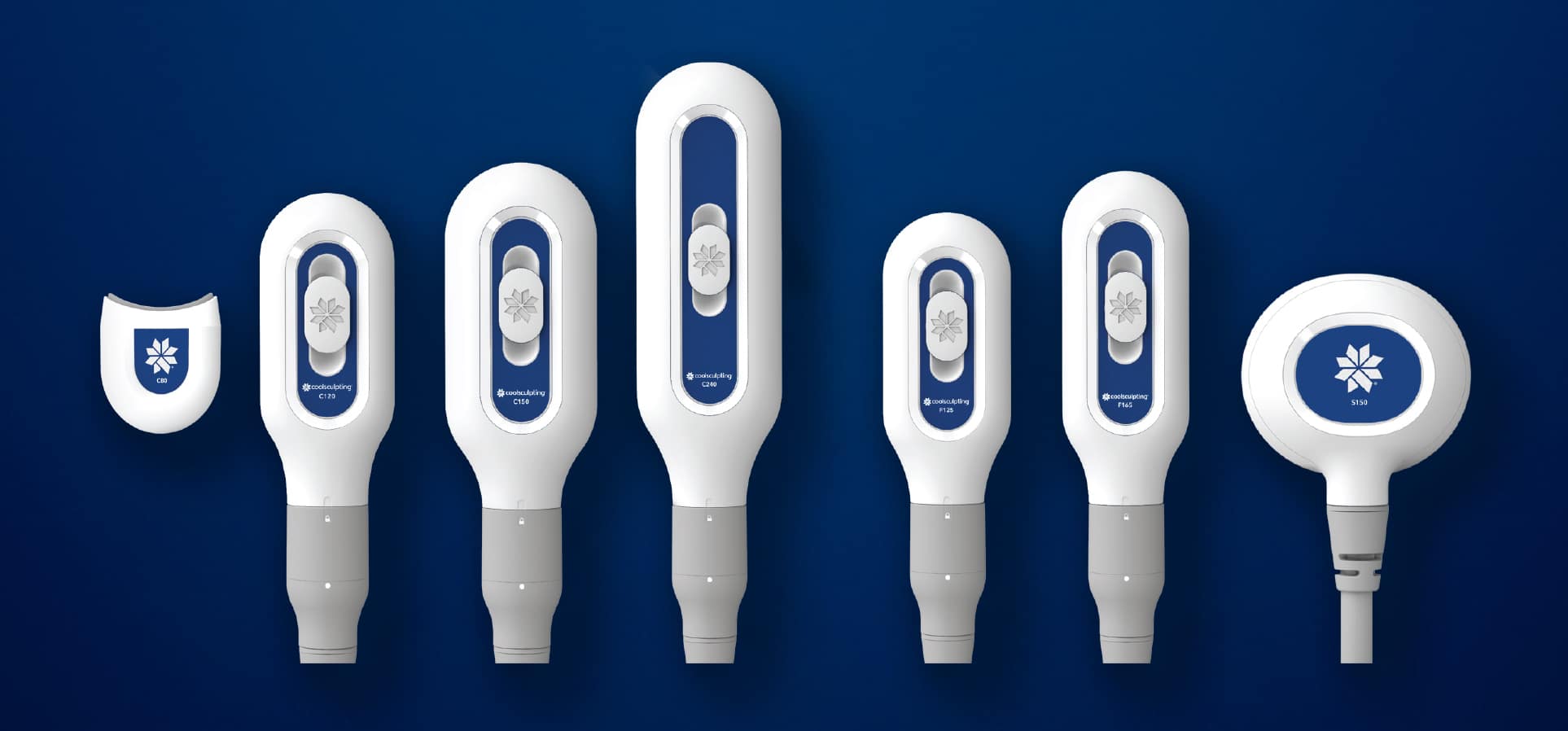 You will feel a sense of coolness for the first minute. After that, the treated area goes numb. You may feel a little discomfort at the start, but it will go away soon after treatment has begun. Treatment can last from 1-6 hours depending on the number of areas that the patient would like treated.
What areas can be treated with CoolSculpting® Elite?
In addition to treating stubborn fat on the lower abdomen, CoolSculpting® Elite is also commonly used to refine areas including the:
Abdomen and flanks
Inner or outer thighs
Backs of the arms
Double-chin
Bra fat
Will I need more than one treatment?
The number of treatments is determined by how many problematic areas you would like treated. Dr. Epstein keeps your personal goals in mind to help optimize results.
CoolSculpting® Elite Before & After Photos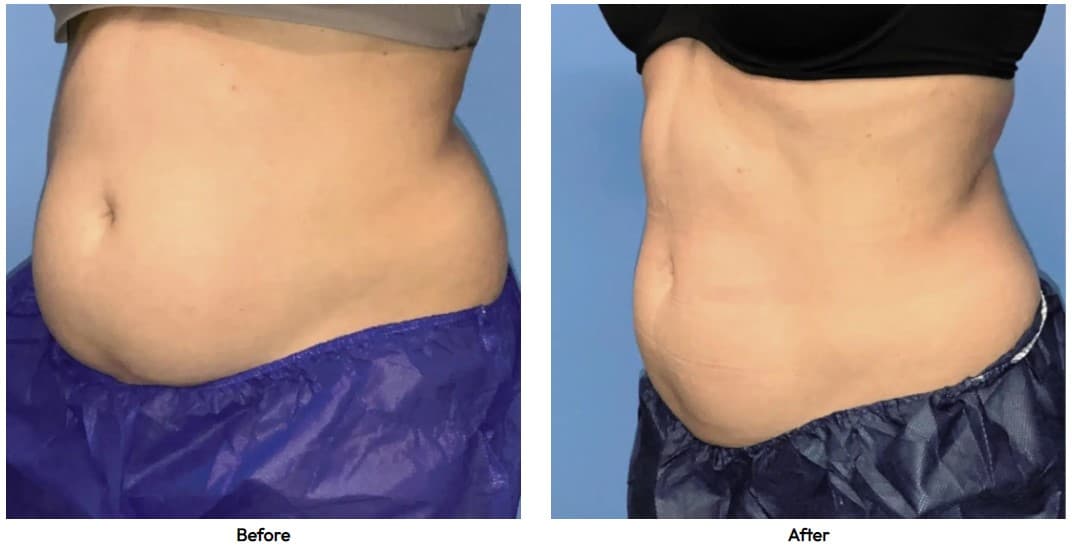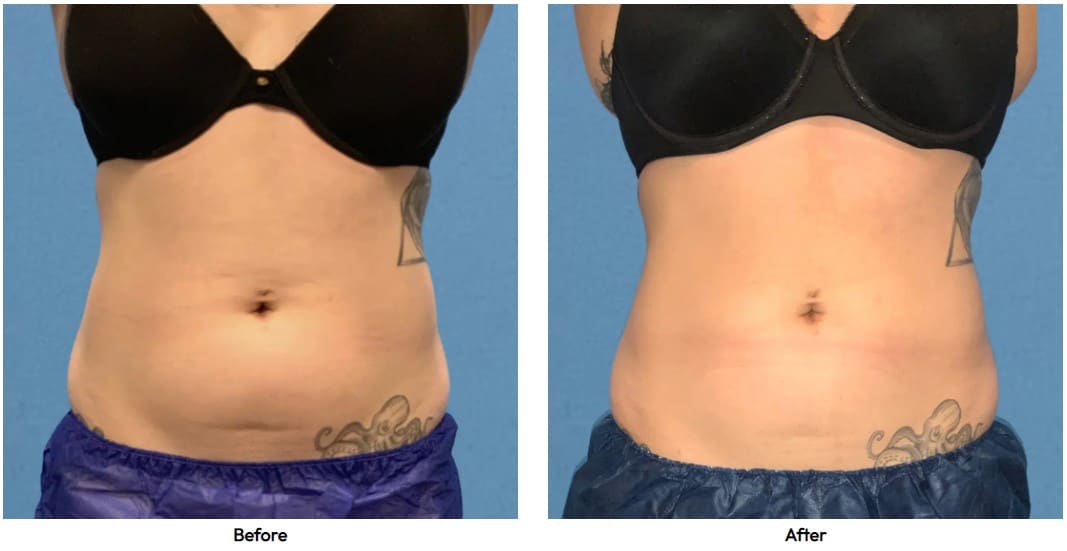 See What Our Patients are Saying…
Dr. Epstein is not only an artist but he delivers the best results and service. I had a procedure done on 1/8 and had little to no pain. Later that night Dr. Epstein personally called me to see how I am feeling. He cares about his patients." – Jacqueline W. 

"My experience with Dr. Epstein was amazing. He is an honest, knowledgeable doctor. I would definitely refer him to anyone looking to have anything done, big or small." – Panagiota S. 
To read more reviews, click here!
CoolSculpting® Elite Results
Your final results will not be visible until the patient has the necessary amount of treatments needed to improve the specific area. The number of treatments needed will be discussed during your consultation. The results attained from CoolSculpting® Elite are long-lasting. CoolSculpting® Elite is completely non-surgical, so you can return to normal activities immediately. Patients often return to work on the same day after their treatment is completed.
CoolSculpting® Elite Recovery
Unlike other fat removal procedures like the tummy tuck or liposuction, this fat freezing treatment is completely non-surgical. Therefore, people are able to return to their everyday activities and responsibilities immediately after their appointments. In fact, most patients take the morning off and then return to their workday after their procedure. If you are looking for a low time-commitment option for fate reduction, in terms of recovery, CoolSculpting® Elite is the best option for you.
How does CoolSculpting® Elite work?

Many of us have stubborn fat despite diet and exercise.
CoolSculpting® Elite technology uses controlled cooling (Cryolipolysis) to target and kill these fat cells.
In the weeks to follow, you will notice a decrease in fat in the treated area.*
CoolSculpting® Elite results are long-term but vary based upon each individuals lifestyle.*
Can CoolSculpting® Elite be combined with other procedures?
CoolSculpting® Elite may be combined with a number of other cosmetic procedures to maximize the results of each. Because CoolSculpting® Elite focuses only on fat reduction, this technique may be complemented by skin-tightening modalities that promote collagen contraction and remodeling. CoolSculpting® Elite may be combined with treatments that reduce stretch marks or with those aimed at rejuvenating the face. During your consultation in our Long Island plastic surgery practice, you have the opportunity to discuss your cosmetic concerns and explore how we can help you resolve them.
CoolSculpting® Elite Vs. Liposuction
CoolSculpting® Elite is one of the best alternatives to liposuction to be developed to date. Liposuction is a minimally-invasive surgical technique that can be performed on a variety of body areas. Dr. Epstein utilizes the Vaser Liposuction method, which targets fat cells with ultrasound energy to ease the extraction process. Being a surgical technique, Vaser liposuction does have a few risks, such as infection and scarring. Patients may need a few days of downtime while initial bruising, swelling, and soreness decrease.
In addition to a few more side effects, liposuction also offers a few unique benefits over non-surgical body contouring. Even with temporary swelling and bruising, liposuction patients may reach their optimal outcome sooner than CoolSculpting® Elite patients. Liposuction requires only one procedure to achieve maximum fat reduction whereas CoolSculpting® Elite may require multiple treatment sessions to attain the same results. Overall, the results with liposuction are more dramatic than with Coolsculpting® Elite.
Both CoolSculpting® Elite and liposuction can achieve excellent results that last many years. Regardless of which technique a patient chooses, a commitment to long-term health and fitness is needed to sustain an ideal shape.
Is CoolSculpting® Elite painful?
CoolSculpting® Elite can be temporarily uncomfortable. However, most patients do not describe the sensations that occur during or after treatment as painful. During the first few minutes of treatment, while the tissue is cooling, sensations such as cramping or aching are likely. Once tissue reaches our target temperature, though, nerve endings are increasingly desensitized and tissue feels numb. Tingling may occur during or after treatment, as well, but should not feel significantly uncomfortable. Most patients are able to resume normal activities immediately after their treatment.
Are there CoolSculpting® Elite risks?
There are very few risks to CoolSculpting® Elite treatment, which is one of the many reasons this procedure is so popular. The most common side effects of treatment include transient redness and swelling after fat has been treated. Sensations such as numbness, tingling, or burning may linger for a few days after CoolSculpting® Elite. The most significant side effect that could occur is called Paradoxical Adipose Hyperplasia. This rare occurrence, in which fatty tissue thickens and appears more prominent, has happened only about 200 times out of more than 4 million CoolSculpting® Elite treatments. Paradoxical Adipose Hyperplasia is not life-threatening and it can be treated with liposuction or other body contouring methods.