Body contouring has historically been challenging when left only to diet and exercise. Stubborn areas of fat may linger for years, causing frustration and even lowering confidence. In recent years, we have seen a number of advances in body contouring procedures. BodyTite is an innovative procedure that we are proud to offer in our Hauppauge cosmetic surgery practice.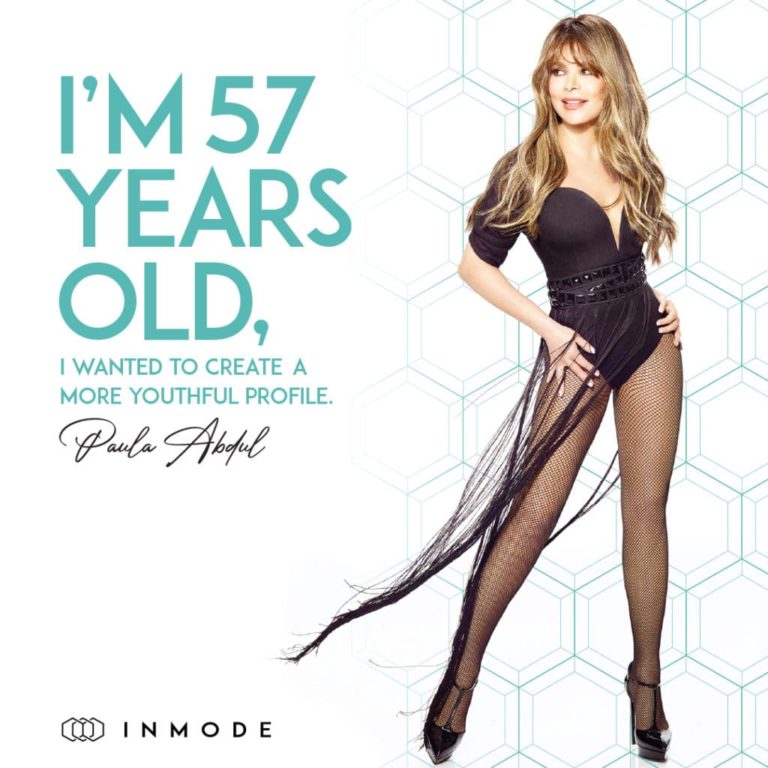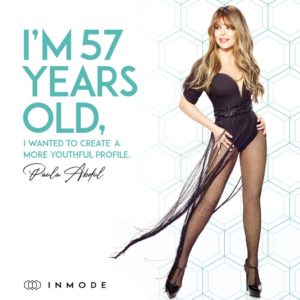 BodyTite is an FDA-approved device that melts fat and tightens skin simultaneously. It is radiofrequency assisted lipolysis, or RFAL™, a procedure that may be performed in the comfort of our private treatment room or operating room under local anesthesia, mild sedation or general anesthesia depending upon the complexity and the extent of the body areas being treated. BodyTite is the first device of its kind, designed to heat dermal tissue from within for more consistent results.
How Radio-Frequency Assisted Lipolysis Works
BodyTite is conducted through a unique handpiece that deploys radiofrequency energy from both an internal probe and an external electrode. The internal probe is inserted through a tiny incision. When moved across the treatment area, the electrode and internal probe precisely heat adipose tissue as well as superficial tissue beneath the skin. Built-in mechanisms ensure that the appropriate degree of heating occurs without damaging the skin.
What are the benefits of BodyTite?
BodyTite is referred to as a scar-less body contouring procedure because the multidimensional use of focused radiofrequency achieves better results with less invasive technique.
Expedited treatment process (30 to 90 minutes).
Uniform results without the need for excision.
Outstanding safety measures through multiple safeguards to monitor skin temperature.
BodyTite versus ThermiTight
Just to get this out of the way, prior to BodyTite, in 2014 I used ThermiTight, a technology from another manufacturer. In 2017, I made the switch to BodyTite and have not looked back! There are significant improvements in BodyTite as compared to the ThermiTight:
BodyTite is Bipolar versus ThermiTight which is unipolar. Bipolar provides greater concentration of the radiofrequency energy into the specific tissues to be treated.
Greater safety with BodyTite. BodyTite monitors skin temperature on the surface with a probe, ThermiTight relies on an infrared camera to assess skin temperature which is cumbersome, and requires the surgeon to constantly watch a monitor, rather than look directly at the skin being treated. BodyTite will also automatically cut off energy delivery if skin termperature is too great, ThermiTight has no such safety mechanism.
BodyTite has 20 and 40 Watt probes, ThermiTight is only 10 W. Treatment times are much longer and hard to use on sensitive areas like the abdomen that require more local anesthesia.
Results are more pronounced with BodyTite.
What areas can BodyTite treat?
Using innovative applicators, we are able to contour areas of the body including the:
Abdomen
Buttocks
Love handles
Hips
Inner and outer thighs
Knees
Arms
Does BodyTite require anesthesia?
Small areas are easily treated while awake with local anesthesia. Some patients may also desire mild oral sedation may be administered prior to treatment to promote emotional comfort. We also have ProNox® ("sweet air") which works well to relax you. When several areas are being treated at the same time, general anesthesia is also an option. As treatment begins, anesthetic fluid infiltrates superficial tissue via a special hollow tube (cannula) through a tiny incision about 1/16 of an inch. Most patients describe sensing nothing more than minor pressure during BodyTite treatments.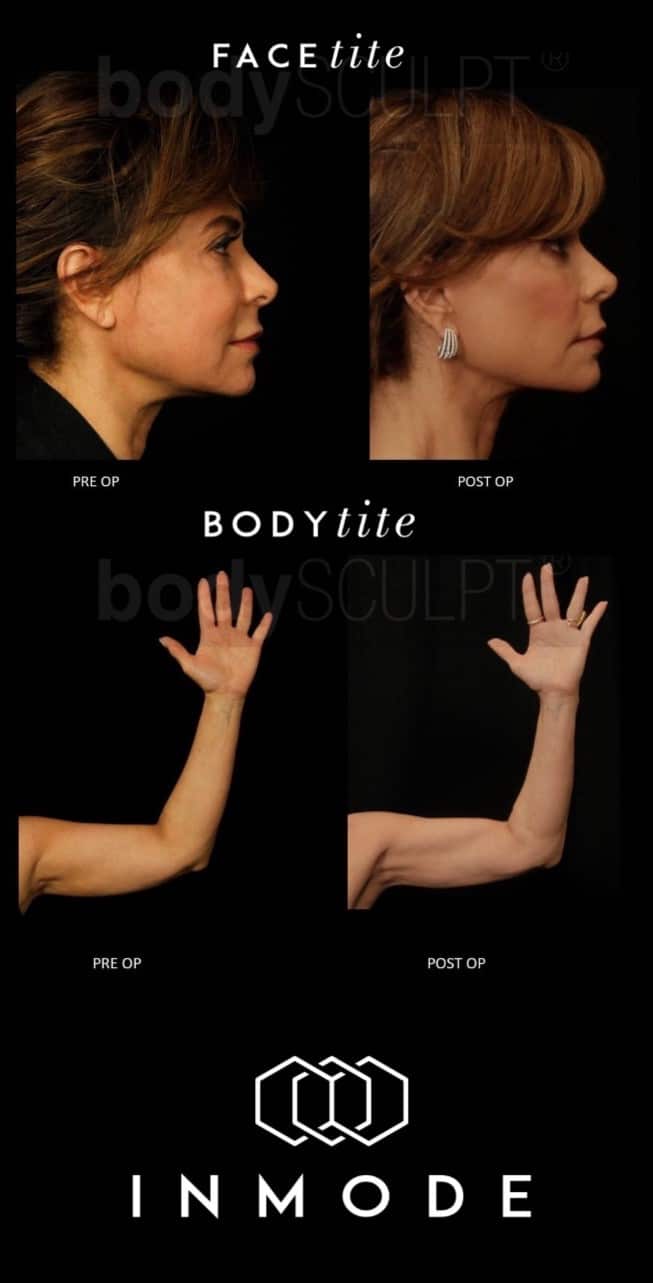 What are the side effects of BodyTite?
Immediate side effects may include mild tenderness and soreness in the treatment area, which can make walking and physical movements somewhat uncomfortable. Such sensations dissipate over several hours, and can be managed with over-the-counter pain medication if necessary. Full physical comfort typically returns after a few days of healing.
Additional side effects that may occur include minor swelling and bruising, redness, and sensitivity when treated skin is touched. The skin may appear uneven for a few weeks after treatment, as well. This is a normal aspect of lipolysis that should diminish as fat cells become more evenly distributed after the slight disruption during treatment.
Can BodyTite be combined with other procedures?
Because BodyTite involves small incisions and fat-melting via a tiny probe, this procedure is sometimes combined with liposuction. The extracted cells may be used in a fat grafting process to augment another part of the body. Contact our office for further details on combining BodyTite with additional procedures.
Before and After BodyTite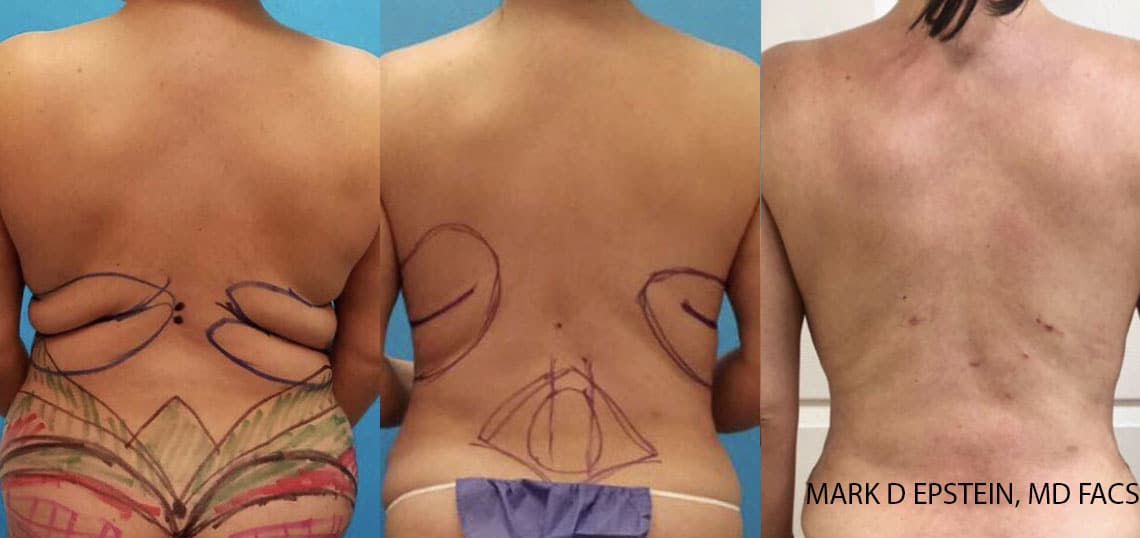 Left: PreOperative with markings shown for liposuction
Middle: Results shown after liposuction only, with markings for BodyTite
Right: A few weeks after BodyTite demonstrating excellent tightening of the mid-back and resolution of all lax skin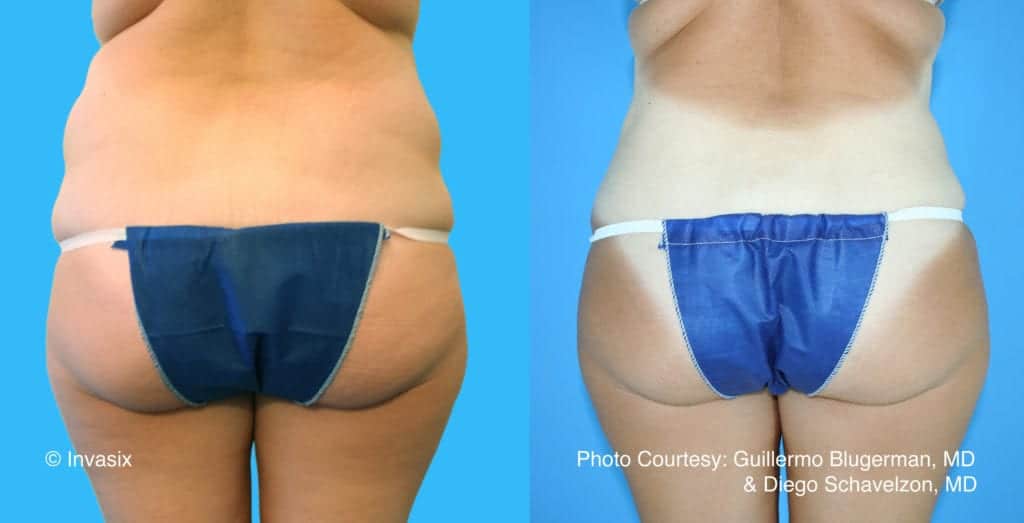 How long is the recovery after BodyTite?
Recovery time is relative to the extent of the treatment conducted. Smaller treatment areas may need only a few days of downtime to return to optimal comfort. Larger areas, such as the thighs, hips, buttocks, and abdomen, may need up to 10 days for full recovery.
How long after my BodyTite treatment do I see results?
The results attained with BodyTite may be noticed right away. However, skin tightening and body contouring improve progressively due to collagen production and cellular metabolism. This means that results may peak between 6 and 12 months.
"Dr. Epstein has been absolutely amazing every step of the way during my surgery and healing process. He and his staff have gone above and beyond to make sure that I am taken care of. I definitely recommend Dr. Epstein to anyone looking to get plastic surgery; it as well as his skills and expertise are worth it!" – Cal W.

"

After researching several cosmetic surgeons I finally found the artist for me. I stumbled upon Doctor Epstein's work on YouTube. Seeing testimonials of his craft made me feel comfortable and that solidified my decision to travel out of state to get the look I desired. The practice is pristine and welcoming, the staff informative and personable. I never had such a relaxed experience with any other surgeon during my Juvederm lip treatment. Looking forward to my next visit!

" 

– Ashley C.
Am I limited from any activities after the procedure?
Immediately after BodyTite treatment, patients are encouraged to rest at home for the remainder of the day, but may resume activities as tolerated the following day, depending on the treatment area. Normal activities may be resumed gradually over the course of a few weeks, as tolerated during recovery.