Now is probably the best time ever to consider breast augmentation. Almost everyone nowadays is choosing silicone gel filled breast implants over the older saline filled breast implants, for a much more natural look and feel. Our Long Island practice offers all the latest options in silicone gel implants. I prefer the Natrelle® brand of implants, made by Allergan. I have been using them since silicone gel implants made their re-emergence in the US market in 2006. They are of the highest quality, and the manufacturer stands by their products. During your consultation with me, I will discuss each option in detail and will determine what breast implant is best to achieve your desired results.
People tend to think of silicone gel implants as if they are all the same. I guess we could do the same with automobiles. All cars will get you from point A to point B. However, the quality and comfort of the ride will vary. All breast implants will enlarge the size of the breast. As already discussed, breast implants vary in terms of shape (round vs teardrop), surface (smooth vs textured), profile (low, moderate, moderate plus, high and extra high), how soft the gel itself is, form stability – how well the implant will retain its shape vs collapsing, how strong the implant shell (bag) is, how elastic the shell is, what percentage filled the shell is (think of a ziploc quart size bag with 1/2 gt, 3/4 qt and 1 qt of liquid contents – how each will vary in appearance and feel). Each implant will have its own unique characteristics.
This is why options matter. Not every implant is ideal for every breast. The more implant options a surgeon has to chose from, the better the surgeon can select the best implant for a given breast, taking into account the desires and goals, as well as the tissue characteristics of the specific patient.
Why are there so many options? This is a good thing. This is what gives a woman choices. This allows you to select the implant that best suits your personal preferences as a patient. Currently, only smooth surface devices are available (Allergan), so all implants are round. However, there are still some very nice options available.
Silicone Gel Implants – Firmness and Shape
Is firmness a good thing? Well, the firmer the gel, the more it holds its shape. The softer the gel, the less it holds its shape. The caveat here is that the softer the gel, the more it will resemble the "feel" of natural breast tissue. So a more cohesive implant will feel firmer and hold its shape better, whereas a less cohesive implant will feel softer, better resembling the feel of a natural breast but will not hold its shape as well as a more cohesive silicone gel implant. So as you increase cohesiveness, you get better preservation of shape, but at the expense of softness. And if you decrease cohesiveness, you get less preservation of shape, but increase the softness of the implant. It's a trade-off that you balance based upon your personal preferences. There is no wrong decision here. You will achieve great results with any of the silicone gel implants, but you can optimize that result for your own personal preference now with the different options currently available to you.
What are the current silicone implant options?
The firmer silicone gel implants are also known as "Gummy Bear implants" by their resemblance to gummy bear candy if you were to theoretically take a bite out of the implant (but don't do so – they won't taste as good as the candy!). These implants are not new – they have been available in other countries around the world for several years. I also indicate below when they became available in the United States. Teardrop Gummy Bear implants are no longer available in the United States as of July, 2019. Note: The below discussion is for Allergan Natrelle brand implants. I am not discussing Mentor nor Sientra brand devices.
Inspira® Responsive Non-Gummy (2006)
Inspira® Cohesive Gummy (2016)
Inspira® SoftTouch Gummy (2017)
Watch Dr. Epstein Discuss Different Implant Options
Inspira® Responsive Non-Gummy
The Inspira® Responsive Non Gummy Breast Implant is an excellent implant. The gel is the least cohesive among the Inspira® implant family, which makes it the softest. On the other hand, it does not hold its shape as well as the other "Gummy" (form-stable) implants. This implant works well when there is adequate breast tissue of good or better quality, yielding a very soft, nicely shaped breast. In young women with small breasts with a tight soft tissue envelope, this is my "go-to" implant. While rippling is far less frequent with silicone gel implants than saline ones, with this implant, there is the potential for a little more rippling than seen with the Gummy options in women with thin or stretched breast tissue. For this reason, I do not recommend this implant for women with very thin, stretched out, compromised breast tissue.
Click here to see before and after photos with the Inspira Responsive Non-Gummy Implant.
Inspira® Highly Cohesive Gummy
This type of implant is the most cohesive of all the Inspira® implants, making it the most "form-stable" which allows it to retain its shape. This implant will yield the greatest degree of upper breast (upper "pole") fullness and the least amount of downward migration of silicone gel, or bottoming out. This implant is excellent when there is very compromised, thin tissue as shape is best preserved with the least amount of rippling. I also use this implant for women who wish to maximize the amount of upper breast fullness, as this implant is the most form stable and best retains the maximum upper breast fullness.
The Inspira® SoftTouch Breast Implant is the most recent and newly introduced implant released in April 2017. This implant is still cohesive enough to be considered a "gummy", but its cohesiveness and firmness lie in-between the Inspira®  Responsive Non-Gummy and the Inspira® Cohesive Gummy implants. It is an excellent compromise between softness and firmness and suitable for most situations. It is a favorite among many of my patients.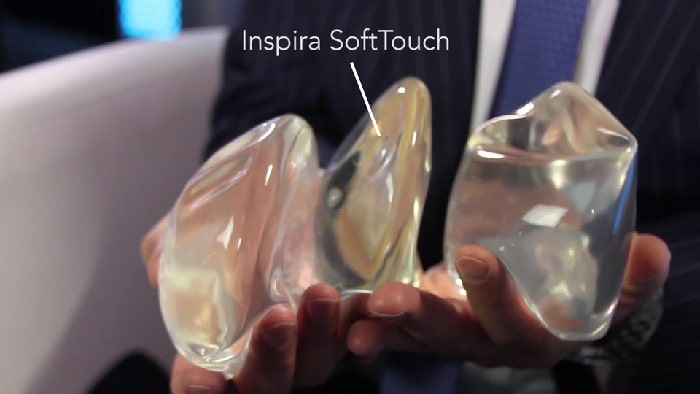 Topics - What Implant Type Do I Need
Sections – Five Key Decisions You Need To Make
Chapters – Breast Augmentation Guide